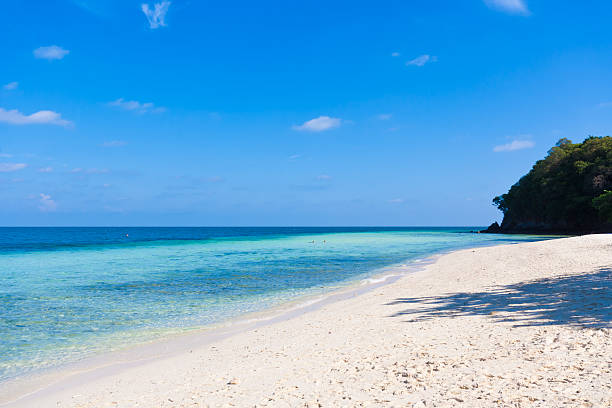 THINGS TO DO IN KOH SAMET
The island of Koh Samet is known for fine white sand, many water sports and a vibrant nightlife. Only about 2 hours by car from Bangkok and about 45 minutes by ferry from Ban Phe Pier on the mainland. Koh Samet is usually packed with visitors on weekends and long holidays. There are different tourist groups and a whole range of different accommodations on Koh Samet:
Arrivals without booked accommodation (walk-in) are not recommended on weekends, as all the accommodation on the island is usually fully booked.
What to do in Koh Samet
Koh Samet is famous for its beaches. A tip, the further south you go, the less developed and less crowded it is on Koh Samet. Most boats from the mainland arrive at Na Dan Pier on the northeast tip of the island.
From here the first beach you come to is Sai Kaew which is the most developed and best place for night life.
Then it's headland at a time as you travel south along the east coast from Ao Phai and Ao Tabtim to Ao Vong Duen, Ao Wai, Ao Kiu Na Nok to Ao Karang at the southeast end. You can always hitch a ride with a passing songtaew (taxi) to get from one beach to another. The west coast is rockier and more isolated, with forest-covered headlands and white-sand beaches – the perfect backdrop for upscale resorts.
Ao Phrao is the main landing point on this part of the island and has absolutely stunning beaches with azure blue waters.
Ao Phrao
Tucked away on Samet's western shore, Ao Phrao feels like a different world. Its quiet beaches and calm, shallow waters cater to an upscale crowd. Forget the busy beachfront and rowdy nightlife of Sai Kaew, or the backpacker's stretch at Ao Phai. Ao Phrao has only a few luxury resorts, each claiming an expansive beachfront area ideal for swimming and water sports like catamaran sailing, scuba diving, canoeing and fishing. The idea behind landing on Ao Phrao is to stay and enjoy the serenity of a 'private' beach as well as to benefit from all the resort facilities available.
Ao Hin Khok
This 200-metre stretch of powdery beach is popular among backpackers and budget travellers who often touch base here to share travel tales and plan their next adventures. Many have compared the friendly Hin Khok atmosphere to Bangkok's laid-back Khao San Road. So, expect to see lots of familiar faces if you are a regular of Bangkok's most famous backpacker strip. The beach here is one of the best for swimming and sunbathing. Cheap accommodation can be found a bit further up the hill and often comes at better value than that in neighbouring Sai Kaew or Ao Phai.
Ao Kiu Na Nok
Tucked away on the southern tip of the island, Ao Kiu Na Nok offers complete isolation from other beaches and is best accessed via a boat ride from Ban Phe. With a picturesque beach front, where calm, azure waters meet and melt into powdery soft sand, this is as close as it gets to a 'paradise beach' on Samet, making it an ideal choice for honeymooners and romantic couples. You can catch both sunrise and sunset as the beach is situated on a narrow, walkable swathe of land facing both east (Kui Na Nok) and west (Kiu Na Nai).
Ao Phai
Right next to Sai Kaew Beach, Ao Phai has a backpacker feel to it and overall is relaxed and pleasant. The beach is a continuing stretch from Sai Kaew, only separated by a low, rocky headland. Snow-white sand, turquoise waters and a lineup of oceanfront restaurants and bars with fire dance shows are all featured here. Nightlife is, however, more low-key than neighbouring Sai Kaew. Think candlelit tables and comfy cushions neatly spread out on the sand, ideal for chilling out until late into the night.
Ao Tubtim/Ao Phutsaa
Just a five-minute stroll from Ao Phai, Ao Tubtim/Ao Phutsaa occupy pretty much the same stretch of white-sand beach and have somehow managed to stay off the tourists' radar. They are popular amongst foreign visitors in search of a quiet spot not far from the main Na Dan Pier. Rather than a sweeping beachfront, you get a cosy stretch that is perfect for lazing around with a book or MP3 player. The crystal-clear water is ideal for swimming in.
Ao Vong Duen
Another popular beach among local tourists, Ao Vong Duen can be accessed directly via boat from Ban Pae or songtaew from Na Dan Pier. There is a good range of restaurants and bars on the beach, with a rather low-key ambience if compared to Sai Kaew or Ao Phai. The sweeping beach front is blessed with clean, clear waters, but a range of motorised water sports means that it can be quite loud during the day. Most of the accommodation on Vong Duen is in the three-star category.
Ao Wai
Remote but not completely isolated, Ao Wai offers a tranquil and picturesque beach front, a far cry from the honky tonk backpacker scene of Sai Kaew Beach or Ao Phai. However, being this remote means that your resort is pretty much all of Samet that you will see unless you venture out to neighbouring Ao Thian, a long-time favourite of local college kids, with its beachside bars and restaurants. Access is limited to either a bumpy ride on a dirt road from Vong Dueng Beach or via a boat from Ban Phe. Accommodation is basic here, but if all you need is a place to sleep, eat and a secluded beach escape, then Ao Wai is an ideal choice.
Sai Kaew Beach
The most developed of all the beaches, Sai Kaew has been subject to mass tourism, which means endless rows of restaurants, a lively nightlife scene as well as a crowded beach and loud music. Luckily, the nightlife zone is relegated to the southern strip, leaving the rest of the beach somewhat peaceful after dark.
There are plenty of water sports here, such as water skiing, wakeboarding, jet-skiing, banana boating, canoeing, and scuba diving. Speedboat operators are more than ready to get you on board for a half-day or full-day sightseeing or diving tour. With so many things going on, Sai Kaew is an ideal destination for families, fun-loving travellers and those travelling in large groups.
---
Koh Samet Nightlife – What to Do at Night in Koh Samet
Koh Samet has a lively nightlife scene along a sizable stretch of Sai Kaew and Ao Phai. Catering for backpackers and budget tourists, these bars are clones of each other in terms of general ambience, music and drinks menus. Most have cushioned loungers and low tables lit by kerosene lamps set up right on the sand. And since the competition is stiff, each seems to offer either a happy hour deal of some sort or a kind of drinking game where you are rewarded with a couple of free drinks.
From Thursday to Saturday, expect to share your beachfront space with a large crowd from Bangkok and, to everyone's delight, irresistible drink promotions to match. And if you don't mind sharing, a 'bucket' of local whiskey mixed with ice and an energy drink seems to be the tradition among the revelers here. Expect to see a string of fire-dancing shows breaking out along the beach late into the evening – quite a spectacle that always draws in a large crowd of spectators.
The atmosphere here is totally relaxed and casual. No dressing up is necessary anywhere on the entire island. So just chill out and drink it all in – island style.
Koh Samet Restaurants – Where and What to Eat in Koh Samet
Most hotels and resorts on Koh Samet operate their own beachside restaurants, which usually serve a selection of Thai and international cuisine. If you prefer more of an island atmosphere and simpler local food, then head over to Sai Kaew Beach, Ao Phai, or Ao Hin Khok (between Sai Kaew and Ao Phai).
Occupying these two popular hangout spots are endless rows of seafood joints, set up in a similar chilled-out style at nightfall, with low, candlelit tables and straw mats laden with triangular pillows and cushions. The food, however, is hit and miss and it's nearly impossible to tell which place serves great seafood and which is just a plain rip off. The best advice is to ask around or study the menu before you pick a table.
During the day, hawkers roam the more popular beaches, selling everything from fresh fruit, coconut juice, dried squids, som-tam (fiery papaya salad) to beach shawls, fake tattoos and even Thai massage.
Koh Samet Activities – What to Do in Koh Samet
Koh Samet is the kind of place where you can live out a totally lazy day, doing very little besides lying about in the sand, or enjoying water sports. Best of all, no planning is required, particularly if you choose to stay at one of the more popular beaches like Sai Kaew, Ao Phai and Ao Vong Duen, where a multitude of options are right at your resort's doorstep.
Discover an entire spectrum of experiences, whether it be the usual such as diving, snorkeling, jet skiing and kayaking or the exotic such as fishing, beachside massages, ATV riding and even beachside Muay Thai boxing. Speedboat tours can also be a great way to visit the remoter beaches down south and on the west coast. With so many tantalising options, you will never run out of things to do on Samet.
Diving and Snorkelling
Samet's rather shallow eastern bays are most suitable for open water diving. Night dives are also popular among experienced divers, as there's a lot of nocturnal happenings beneath the waves. Discover an abundance of porcupine pufferfish and manta rays just off Ao Phai's coast, swim among the black-tipped sharks, stingrays, barracudas, multi-coloured ferns, corals and star fish at the southern tip near Ao Kiu and Shark Point, or explore the depths of the uninhabited western coast.
Although there are only two qualified PADI centres, at Ao Phrao and Ao Kiu Na Nok, several others along Sai Kaew Beach and Ao Vong Duen are more than happy to arrange a customised tour or a morning drop-off and afternoon pickup service.
Island Tours
Boat trips are the best way to visit all the hidden beaches and coves on Koh Samet, with an island-hopping trip thrown in if that's what you prefer. Most speedboat operators on Sai Kaew Beach and Vong Duen can help you arrange your trip, which can include a lunch barbecue, snorkeling and an excursion to nearby fish farms or the islands of Kudi, Kruai, Kham and Plai Tin. Slower-moving boats offer a more relaxing experience and will take a whole day. You can choose to visit Samet's 11 most popular beaches on the eastern and western sides. Always agree on a price before stepping on board.
Motorised Water Sports
Generally speaking, you can rent water sports equipment at popular beaches like Sai Kaew, Ao Phai and Ao Vong Duen, which is also the best place to go for sports like jet-skiing, wakeboarding and parasailing. Thrill-seekers beware, though, that jet-skis are both noisy and environmentally damaging. Also watch out for widespread scams perpetuated by the jet-ski owners, who have every inclination to either rip you off – it's not an exaggeration to say that to carefully photograph your jet-ski before using it as a wise thing to do, especially if they claim that you put the scratch down the side that will cost thousands to repair. Better to opt for non-motorised water sports, such as sailing, kayaking, or swimming, to save on environmental impact and a huge 'repair' bill.
Canoe and Kayak
What better way to discover Samet than via your own paddle power? Canoeing and kayaking are two eco-friendly ways to explore the island's picturesque coastline and remoter beaches further south. The waters off the eastern shores are more calm and paddle-friendly than the rough and rocky west coast. The best time to do it is late afternoon, when you can also catch the gorgeous sunset – but play it safe – stay close to shoreline at this time of day.
Sailing, Windsurfing and Catamaran
Setting sail doesn't require much planning on Samet. Nearly every guesthouse and resort on the island can help you arrange the necessary equipment. The area north of Sai Kaew Beach is particularly good for sailing and windsurfing, as the strong currents and offshore winds offer a challenge. Catamarans are also available at the high-end resorts at Ao Phrao and Ao Kiu
Sunset Cruise or Sunset Experience
Whether on the beach, on the rocks, or on your room's west-facing balcony, watching the Koh Samet sunset is an experience not to miss. You can make no effort at all or, with a little planning, splurge on a sunset cruise and make it a memorable event. If you plan to watch the ocean sunset from the beach or your resort's balcony, though, make sure that you stay at one of the hotels on the west coast (Ao Phrao and Ao Kiu).
Deep Sea Fishing and Squid Fishing
Home to a rich diversity of fish, Koh Samet is a great place to try your hand at deep-sea fishing. Step aboard a fisherman's boat and set out. If you are lucky, you might catch one of the more exotic fish – grouper, parrotfish, dorado, trevally, to name just a few. Alternatively, a squid fishing expedition will keep the night owls busy until dawn.
ATV Riding
While the haphazardly paved roads on Koh Samet can be extremely dangerous for motorcyclists, they serve as an ideal playground for ATV riders. Swerving turns, bumping dirt roads, forking paths and a lush wilderness backdrop combine to make this a fun and thrilling experience. But do exercise caution as you will be sharing the road with songtaew drivers, who won't stop or make way for any other vehicles in their path.
Beachside Massage
Koh Samet takes the art of traditional Thai massage to another level. Rather than going to the masseurs, they come to you. Just find a shady space on the beach and flag down one of the passing hawkers carrying a low stool and beach blanket, and you are ready. Do agree on the price and massage style before you begin a session. But don't expect anything more than basic kneading and stretching, because these are not certified professionals – and sometimes not even properly trained.