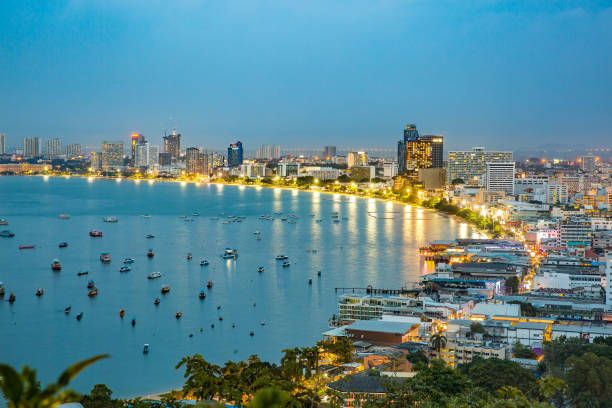 Visit Pattaya
Visit Pattaya best things to do. Where to stay and what to do in Pattaya. Pattaya's traveler's guide provides you with all the needed information.
Pattaya is a resort city in Eastern Thailand. It is situated on the eastern coast of the Gulf of Thailand, only about 150 kilometers south-east of Bangkok. Pattaya is the closest to Bangkok major beach resort of Thailand making it very popular with tourists.
Pattaya is a vibrant coastal city which is busy from sunrise to sunset as well as after dark. Pattaya's beaches are crowded with sun bathers and water sports lovers so don't expect calm and idyllic environment here. After dark, the streets of Pattaya are full of action as travelers explore city's nightlife and enjoy drinking and partying until dawn.
Beaches in Pattaya
Pattaya Beach is a 4 km long beach which is parallel to the city center. This beach is not a great spot for sunbathing or swimming as it's overcrowded, dirty full of speedboats and jet skis here. But if you are into water sports, this place might be just for you. Pattaya Beach Road is running just near the beach and it's full of restaurants, shopping areas and bars.
Jomtien Beach
Jomtien Beach is a 6 km long stretch of sand located to the south of Pattaya Beach. This beach is much more relaxed than the central beach of the city. Jomtien Beach should be your choice if you like lazing on the beach but want to have a variety of attractions, such as restaurants and shopping malls, nearby. Jomtien Beach is much quieter, especially at night, making it a better choice for families and couples.
Naklua Beach and Wongamat Beach
Naklua Beach and Wongamat Beach are the beaches in the northern part of Pattaya. Naklua Beach and Wongamat Beach are probably the nicest beaches in the area, making them your top choice if you want to enjoy a beach holiday in Pattaya.
Koh Larn
Koh Larn, also known as Coral Island, is an idyllic island with beautiful beaches located just 7 km west of Pattaya. Koh Larn beaches are the nicest around Pattaya making them a perfect day-trip destination. If you would like to spend your day swimming, snorkeling and sunbathing, jump on the boat and visit this nice little island.
Koh Larn can be visited independently or by joining a half day tour or full day tour from Pattaya.
book your trip to Koh Larn here >>
Attractions in Pattaya
Walking Street
The worldwide famous Walking Street is the hub of Pattaya's nightlife and one of the most crowded places in the city. The street is closed for traffic from 6 pm to 2 am. Walking Street is a place where you will find the city's best nightclubs, beer bars, restaurants, go-go bars and cabaret show venues. The street comes alive with neon lights, loud music, street performances and party animals from around the world. This is the place where the bad boys go when the good guys are expelled to paradise!
The Sanctuary of Truth is one-of-a-kind 105-metre high teak structure of a temple in Pattaya, featuring intricate wooden carvings that are a good example of Thai craftsmanship. Visit this masterpiece ot Thai architecture cheaper – book your discounted ticket here: The Sanctuary of Truth Tickets.
Big Buddha at Wat Phra Khao Yai is one of the largest Buddha images in the world.
Wat Yansangwararam is a huge unique temple complex that comprises of many buildings built in Indian, Japanese, Chinese, Thai and Swiss architectural styles.
Buddha Mountain or Khao Chee Chan is a 130-metre high hill, with the Buddha image engraved on it.
Pattaya with Kids
Even if Pattaya is mostly associated with beautiful beaches and fun nightlife, the resort city has plenty of family friendly attractions to offer. To fully enjoy your family vacation in Thailand, explore the best things to do in Pattaya with kids.
Parks in Pattaya
Nong Nooch Tropical Garden is a recreation park with a lake, orchid nurseries, waterfalls and a nice landscape. It's a beautiful place that is worth to visit and spend few hours wandering around. Plan your visit in advance, book your tickets online here
Mini Siam and Mini Europe is a model village featuring miniature replicas of famous structures from Thailand and all over the world. If you are planning to visit Mini Siam, you can book Mini Siam Pattaya Discount Ticket online.
Khao Pattaya Viewpoint is a hilltop offering panoramic views of Pattaya city and Pattaya Bay.
Zoos and Aquariums in Pattaya
If you want to see or interact with exotic animals in Pattaya, you can visit one of the zoos or aquariums in the city and around it. Elephant Jungle Sanctuary is an ethical elephant sanctuary, Underwater World Pattaya is a modern ocean aquarium and Khao Kheow Open Zoo is an open-concept zoo.
Waterparks in Pattaya
Cartoon Network Amazone is the first Cartoon Network-themed waterpark in the world. There are 10 themed zones in the waterpark where you can meet your favourite Cartoon Network characters. Cartoon Network Amazone contains over 150 slides and attractions as well as various live shows.
Ramayana Water Park is the largest and newest waterpark in Thailand. Here you can find 21 unique premium water slides. Ramayana Water Park is located in a picturesque place, which is surrounded by greenery, hills and lakes.
Book your Ramayana Water Park ticket online here >>
Museums in Pattaya
If you are having a rainy day or just need a break from sunbathing and water sports while on holiday in Pattaya, you can visit one of the interesting museums in Pattaya – there's a good choice of fun places here! Choose Ripley's Believe It or Not! Museum, Art in Paradise or Teddy Bear Museum and you will have fun with your family for a few hours.
Pattaya Floating Market
Pattaya Floating Market is a place where you can explore the Thai riverside lifestyle. There are over 100 shops and boats selling various Thai foods, snacks and souvenirs at this market. If you are not going to visit Damnoen Saduak or one of Floating Markets in Bangkok, Pattaya Floating Market can be an acceptable option.
Where to Stay in Pattaya
Pattaya has something for everyone. In terms of accommodation too. If you want to have fun, you should stay in Central Pattaya or Southern Pattaya. For more quiet atmosphere you should opt for Northern Pattaya or Jomtien Beach.
Staying at one of Pattaya beachfront hotels is a really good idea.
Top 10 Beachfront Hotels in Pattaya >>
How to get to Pattaya?
You can get to Pattaya by plane, private taxi, bus or train.
Flights to Pattaya
Pattaya is only about 120 kilometres from Suvarnabhumi Airport (BKK), making it easily accessible from anywhere in the world.
Pattaya is also served by scheduled flights via U-Tapao International Airport (UTP) which is connected with Koh Samui, Phuket, Chiang Mai, Hat Yai, Udon Thani, Ubon Ratchathani as well as with cities in China, Malaysia and Russia. Deals for domestic flights to Pattaya Airport can be found here:
Flight from Koh Samui to Pattaya
Flight from Phuket to Pattaya
Flight from Chiang Mai to Pattaya
Flight from Hat Yai to Pattaya
Flight from Udon Thani to Pattaya
Flight from Ubon Ratchathani to Pattaya
book your flight ticket here >>
Private Taxi to Pattaya
The fastest and easiest way to travel from Bangkok to Pattaya is by private taxi. You can get one on the street in Bangkok or book a private taxi transfer with hotel pick up online.
If you're arriving at one of Bangkok's airports and want to go directly to Pattaya, booking a private taxi online is the most convenient way as you will get a convenient pick up service – the driver will be waiting for you at the airport.
Buses to Pattaya
There are regular bus services from Suvarnabhumi Airport and from Bangkok's Ekkamai Bus Terminal to Pattaya. Buses to Pattaya leave from Bangkok's Northern Bus Terminal (Mo Chit) and Southern (Sai Tai Mai) Bus Terminal as well.
Buses from Bangkok to Pattaya are provided by Roong Reuang Coach. Buses of this company depart approximately every 30 minutes from 05:00 am to 11:00 pm. The journey from Ekkamai Bus Terminal to Pattaya takes about 2 hours 30 mins depending on traffic conditions. The bus brings passengers to its own bus terminal on North Pattaya road.
Bus from Bangkok Airport to Pattaya is really convenient for anyone who is flying to Suvarnabhumi Airport and want to travel directly to Pattaya without a stopover in Bangkok.
There are also minivans to Pattaya departing from Ekkamai Bus Terminal every 15 minutes from 04:30 am to 9:00 pm. Mochit Van Terminal also has a number of routes to Pattaya.
Bus from Bangkok to Pattaya
There are also direct buses running to Pattaya from biggest Northeast Thailand's cities and Chiang Mai. Or you can buy combined ticket online here: Bus from Chiang Mai to Pattaya.
Train to Pattaya
Taking eastern line train to Pattaya is another option to reach the resort city. The trip from Bangkok's Hua Lamphong Railway Station to Pattaya takes about 3.5 hours.
Ferry to Pattaya
From Hua Hin to Pattaya you can travel by a direct ferry which is the fastest way for traveling between these two resort cities.
Weather in Pattaya
Pattaya has only two seasons – the wet and the dry. The best weather in this coastal city is between November and May when the weather is mostly dry with little rain expected for much of this time. Wet season occurs between May and October in Pattaya.